Click on the links below to see the article:
JET BOAT ENGINE COOLING
ENGINE OIL ALERT 2010
IMPELLER SHAFTS
IMPELLER / WEAR RING SHIMMING INSTRUCTIONS
Click on the images below to enlarge and/or print.
American Turbine
Jacuzzi WJ Energizer Kit
Tech Sheets
Berkeley Jet Drive
Tech Sheets
American Turbine
Dominator Jet
Tech Sheets

Kodiak/Hamilton
Basic Parts Breakdown
and Narrative
Jacuzzi Jet Drive
Tech Sheets

Hydraulic Diverter Wheel
Button Kit Wiring Instructions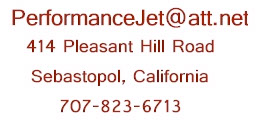 ©2003-2017 Performance Jet. All Rights Reserved.