Most of jet boaters run into trouble when adding a bunch of horse power to their boat without improving the fuel supply system. There are a lot of reasons that can make a motor run too lean. Fuel supply is one. Using the stock electric fuel transfer switch can be a problem. Same goes for the brass manual fuel valve. They are not made for high performance applications, period. The 5/16 " ID and ninety degree bends will kill high flow. One thing you can do to improve fuel flow is to run larger fittings and lines from your tanks and run a high flow fuel transfer valve. Performance Jet sells the Hardin manual fuel valve. This valve has ½" ID , it has no bends, and will draw from both tanks simultaneously or right side, left side, or off. High flow electric valves are good but cost a bunch more $$$.
Call Jim if you want an electric valve.
Hardin Fuel Transfer Valve $160
Oil coolers can be a smart addition to any jet boat engine. These fluid to fluid coolers do a great job of keeping your engine oil temperature nice and cool. PJ believes that these coolers will enhance the durability of any engine by reducing oil temps up to forty degrees or more in some applications. You would be surprised at how hot your oil can get on a blast run up river or across the lake. Engine Temps of 300 degrees or more will start to "break down" the additive packages in non-synthetic motor oils. Why take a chance with your big dollar motor?
PJ has had great luck with the 12 inch cooler shown below.
They come in different sizes, chrome or non-chrome.
Oil Cooler $199
Polished Billet Cooler Brackets $50
WATER JACKETED EXHAUST MANIFOLDS AND SYSTEMS
Hot rodding boat enthusiasts can run into all kinds of problems when choosing exhaust systems for their boats.
The problem arises when boaters install cams with larger duration profiles in the engines of their boats. Water can be drawn back into the engine through the exhaust valve on the overlap stroke when using water injected headers as well as some water jacketed headers and manifolds.
Understanding the difference between various exhaust systems is important when making upgrade plans for your jet boat.
Water injected means that water is injected into the primary exhaust track just outside the exhaust port on the head. These headers can be a problem with too much cam and need to be managed very closely and plumbed properly.
Cam profiles with an exhaust duration over 240 degrees at .050" lift can be a problem, especially when combined with a narrow lobe separation angle. Cam choices with injected headers should be carefully selected for application.
NOTE: Injected headers should never be used in an engine box or an enclosed engine compartment. They run too hot !!
Water jacketed headers and manifolds do not dump water into the primary exhaust track. Jacketed Headers are built with a header inside of a header thus creating a water jacket around the primary exhaust track. Aluminum manifolds are cast with a water jacket around the primary exhaust track. The high performance aluminum pieces are of a center rise style with long riser pipes where the water from the engine is dumped into the riser pipe away from the primary exhaust track. Sometimes these manifolds can get water reversion depending on design and application. The proper manifold choice is critical. Much larger cam profiles are allowed and these manifolds can be used in an enclosed engine compartment as well.
Exhaust systems and manifolds are not cheap. Depending on the application, water jacketed headers can run from 2k to 5K and more.
Water jacketed aluminum center rise manifolds are generally cheaper for the average boater but are usually not preferred on the super HP big boy blown motors that need a larger primary exhaust track and longer primary pipes.
Performance Jet sells most header and manifold combinations. On this site Performance Jet deals primarily with water jacketed manifolds and header sets because of the hassles with water reversion.
Be careful about buying that super cheap system you find from somebody on line, do your research first.
Call Jim for prices and advice on specific applications.
Shown below are just some of the water jacketed varieties that can cost from 1200.00 a set to 3000.00 per set or more. Custom sets can also be ordered.
Call Jim for pricing and advice.
\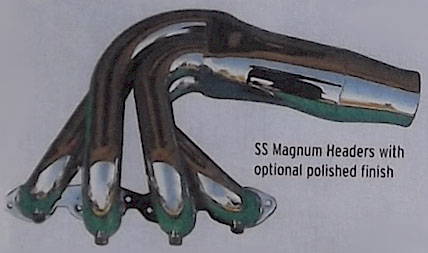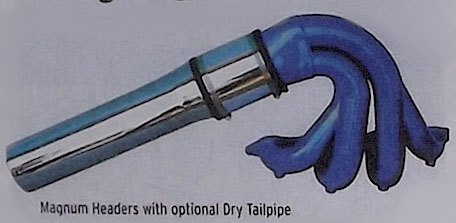 Lightning Headers
Lightning Manufacturing Corporation has been manufacturing performance exhaust systems since 1973. Eight years ago Lightning developed a truly affordable water jacketed header for the performance boater.
The Lightning Magnum Series Headers are available in two models and are offered in a variety of configurations to adapt to any application. They are TIG welded and feature a 1-7/8" inside diameter. The 2-1/2" outside diameter gives the Magnums a larger water jacket that runs the full length of the tubing and provides generous amount of water to insure proper cooling and longevity. Average primary tube lengths begin at 21".
Magnum SS Headers
There is no finer header on the market today than the Lightning all-stainless steel Magnum SS header. Manufactured completely from 16 gauge 316L stainless steel. After final assembly, the entire header is stress relieved, annealed, and heat treated to maximize its strength and corrosion resistance.
They come standard with an Electroplished finish. High lustre polished finish is all available for an extra charge.
Magnum Standard Headers
Get the same superior performance as the Magnum SS Headers at an unbelievably affordable price. Lighting Magnum headers feather 16 gauge 316L stainless steel inner tubes surrounded by heavy duty wall (.074") outer steel tubes. The tubes are mechanically etched by sand blasting before assembly and are internally treated with a corrosion resistant silicone ceramic coating. The exterior is black powder coated.
Magnum headers can also be purchased with a custom Eddie Marine Fusioncoat finish. Recommended for fresh water use only.
Jet/V-Drive Thru-Transom
Collectors point down at a steeper angle for a better fit on jet boat applications.
LMH-107 BB Chevy Magnum-36" wide
LMH-137 BB Chevy Magnum SS-36" wide
LMH-108 SB Chevy Magnum-32" wide
LMH 138 SB Chevy Magnum SS-32" wide
Lightning Header Options
and Accessories
LMH-110 Add-on bracket for mounting Mercury Shift Quadrant to starboard header.
LMH-111 Add-on bracket for mounting Mercury Electronic Control Module (ECM) on port header.
LMH-112 Add-on bracket for mounting Mercury Oil Filter assembly on port header.
LMH-113 Charge for custom Fusioncoat color on headers.
LMH-114 Add 3" rise to headers
LMH-115 Add 6" rise to headers.
LMH-116 Add-on pyrometer bung (each).
LMH-131 Dry Tailpipe Option with SS flanges and gaskets.
LMH-132 Charge for full polish on Magnum SS Headers.
LMH-133 8.2 496 Kit – Adapts Magnum Headers to new 8.2 engines.
LIGHTNING PERFORMANCE MARINE
Lightning manufacturing builds a full line of headers with 2" or 2.25 " primary tubes 33' to 36' wide , low transom exit or over transom. The magnum series are the least expensive with a 316L stainless inner header and a steel outer header. Their S/S header has a stainless inner and outer header.
Call Jim for application and prices.