PERFORMANCE JET SUPER SALE!

American Turbine long droop snoot lowers your thrust line in relation to the shaft center line for increased lift on most smaller boats.  Steering pins set at 7 degree up angle.  Lowers thrust line 1-3/16".
Aggressor long droop snoots do the same.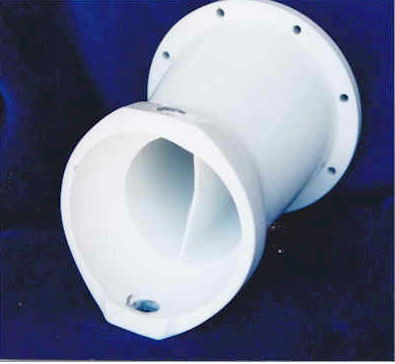 Place diverter long droop snoots are very nicely made and incorporate a bolt-on ride plate if you choose.  These snoots lower the thrust line two full inches, and the steering pins are set 7 degrees up.  This piece allows you to enjoy the advantages of a ride plate without having to pull your intake adapter to machine for a show and ride plate combo. 
$320
Add Ride Plate and Bracket    $140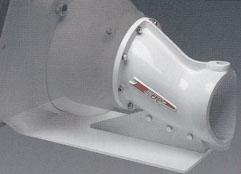 THE LIFT KIT
A split-bowl droop snoot that
offers advanced engineering and
versatility by design, shown with
optional adjustable ride plate.

The place diverter high performance housing is a nice reinforced
short droop that lowers the thrust line 1/2 inch.  The steering
pins are set at 3.5 degrees up angle.  Great for all boats,
especially tunnel bottoms.

Place Diverter High Performance Housing  $320
The long straight snoot, designed by Duane at High Tech
Perfomance is a long straight snoot that works very well on most
applications.  This snoot has no bends to restrict flow.
The steering pins are set straight.  The snoot moves the thrust
point farther aft without pushing the transom downward.
$330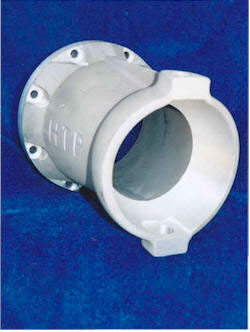 DROOP SNOOT KITS
Performance Jet is offering droop snoot kits that
include all of the hardware you need plus a billet
steering extension and swivel assembly.
A/T or Aggressor Style Snoot with 6.5"  Billet Extension   $340
A/T Short Snoot with 4.25" Extension        $340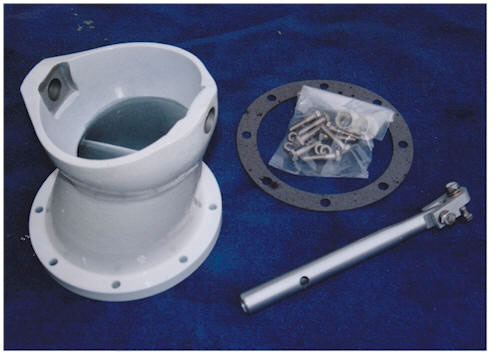 Place Diverter Long Droop Snoot Kit with Ride Plate.
Includes all hardware and billet steering extension     $539
Place HPH Short Snoot with Short Steering Extension  $395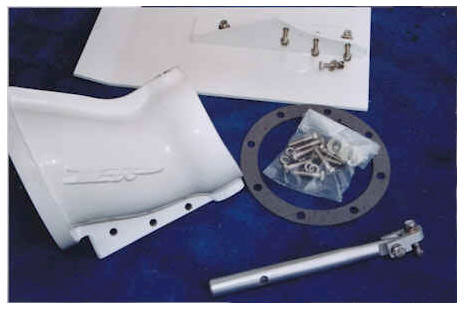 HTP Straight Snoot Kit with Steering Extension  $399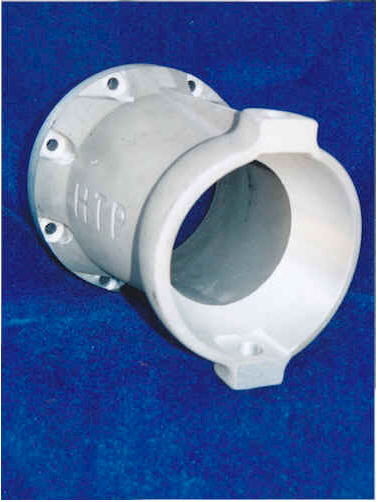 Billet Steering Extensions with Swivels, Short (4.125"), Medium (6.5"), and Long (10")    $89
Steering Tube Seal Nut  $30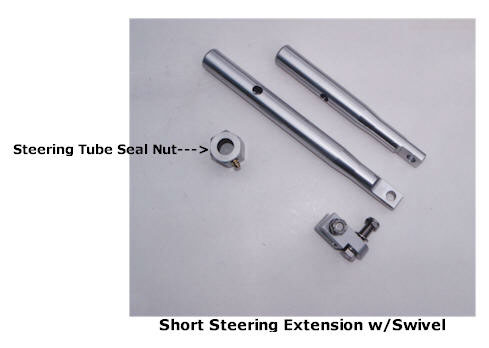 The Install Kit is for back style jets.  It contains
a transom bezel, steering tube, steering extension,
clevis and a cable packer.  All aluminum parts are
made from Billet aluminum and anodized.
$145


PERFORMANCE JET SUPER SALE!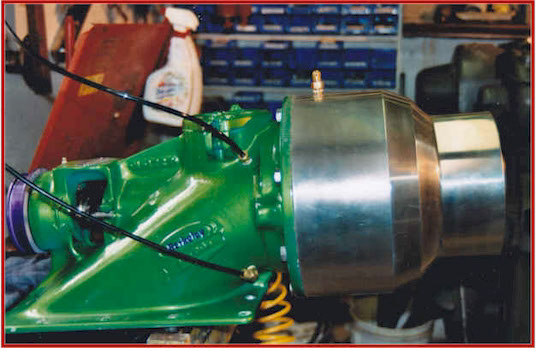 AGGRESSOR
Stronger new generation 9 vane "Bandit" bowl that is a nice piece
and comes with bearings and a seal.
Without Stuffer     $745
(When Available.)

AMERICAN TURBINE/DOMINATOR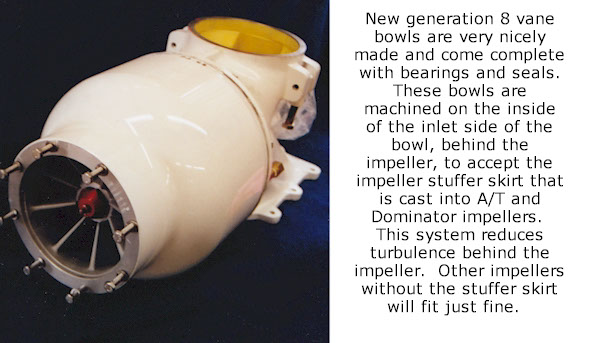 A/T for Berkeley 10-1/4 Standard  $695
Dominator 10-1/4 Standard Heavy Duty Bowl with larger OD.
The Transom adapter ID will have to be enlarged approximately 5/16" to 11-3/4" to fit this bowl.
If you have set back pump (no transom adapter), this bowl is your best choice.
Dominator Drag Race Bowl, H.I.P. Treated, Double Drilled 10.5 inch BC, Extrud-a-Honed $1549

BERKELEY BOWLS
8 vane bowls are very nicely made and are the last to offer oil
lubrications for the shaft tail bearings. 
SALE      $849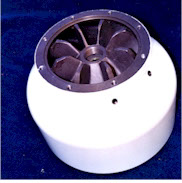 LEGEND BOWLS
This very nicely made 7 vane bowl that has an oil bath for the shaft
tail bearings and a stuffer system designed into the casting.  Standard
impellers will fit this bowl.  This bowl fits only the Legend jet drive
unless you order the Legend bowl that is built to fit a Berkeley 10-1/4" case.
No Longer Available at American Turbine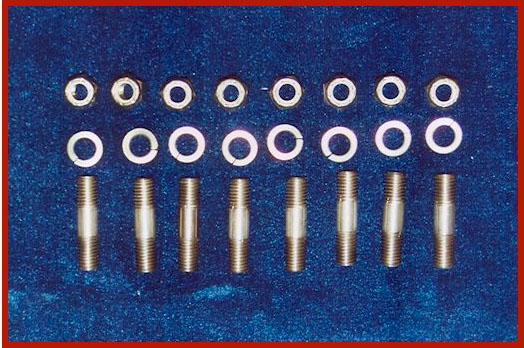 Improve clamping force by 50%.  Cheaper than
double drilling your suction housing and bowl.
As Shown   $59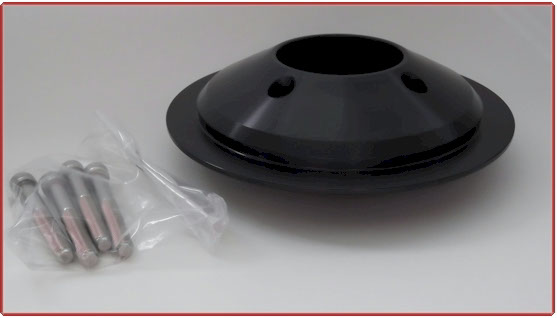 This piece is designed to be installed in the Berkeley bowl to eliminate turbulence
behind the impeller as high pressure water transitions from the impeller into the volutes
of the bowl.  This stuffer was first offered as a CNC machined, billet aluminum
piece by Performance Jet 15 years ago.  Previous versions were cast aluminum.  It is
important to note that installing this stuffer in a jet with a shouldered wear ring will
not work in most cases.  If a shouldered ring is to be installed, the rear
axial dimension behind the impeller must be measured with the impeller
 in place.  In most cases, the bowl stuffer flange will have to be cut to allow
the proper rear axial clearance, between the stuffer and the back side of
the impeller when the bowl is installed.
Aggressor, A/T, Dominator and Legend jets have addressed this turbulence issue
in the design of their jet drives and don't need this stuffer plate in most cases.

The Prime-A-Jet Bowl Bleeder    $49
This auto air bleed is installed on the bowl 2" back from the bowl gasket surface, drilled with a 7/16" drill and tapped with the 1/4" NPT pipe tap.  These little devices bleed trapped air out of the bowl automatically when your boat is loaded into the water.  Trapped air in the bowl becomes more of a problem when a jet drive is fitted with a droop snoot.  Performance Jet always recommends the installation of an auto bleeder when installing a droop snoot.

Performance Jet sells Berkeley used aluminum rudders, when available.
These rudders are re worked pieces that look as good as new.

SMOOTH FLOW BERKELEY
HAND HOLE COVER
The Berkeley Jet drive is the only jet that does not have a smooth flow hand hole cover by design. In the stock Berkeley jet there is a huge mismatch in the roof of the suction housing around the hand hole cover, this creates turbulence in front of the impeller. Years ago, builders would fill this area with epoxy or use a custom cover made by GTH. No longer in business, these covers are long gone.
I used to" bug" Berkeley about this and a few years back, Scott at Hardin, designed a tight fit cover for the Berkeley pump. This cover is heavy duty and fits tightly in the suction housing once you grind or mill out the index bump in the housing.
Performance Jet sells this smooth flow cover for $165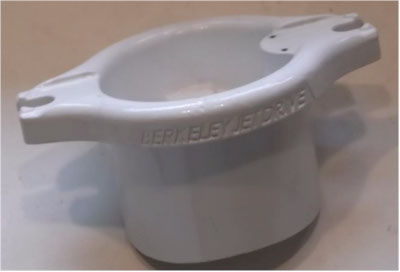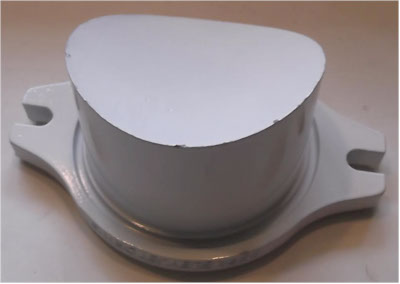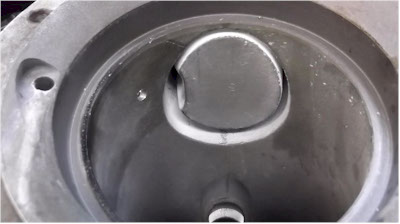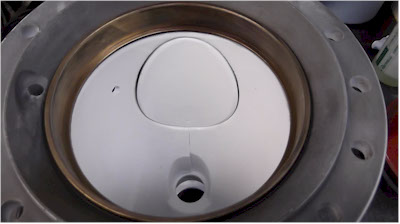 THE JETAWAY
Pictured below is a Jetaway unit that was designed and built by Duane at Hi Tech Performance.
These units are a must safety item for those jet boaters with big power that are looking to run very high speeds. This unit is a ratcheting device that allows the jets impeller to "free wheel" if the engine shuts down at high speeds. Going sideways at high speed is not good.
This is a real nice piece that is lubricated with special oil that also lubricates the pumps main thrust bearing when installed. No more grease, this improves the life of the pumps thrust bearing as well.
There is an added benefit with this unit because it incorporates a "shift collar" that allows you to shift into neutral and disconnect the jet drive from the engine, which is real handy when tuning on the trailer.
The jet drive bearing housing will need to be double drilled to mount this unit and your engine may have to be moved forward.
Call Jim for pricing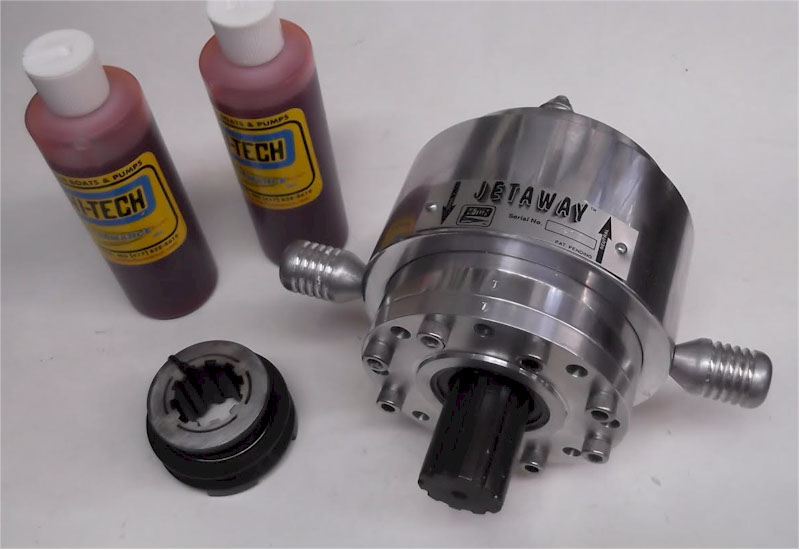 JET DRIVE SUCTION HOUSINGS
Performance Jet sells all makes and models of Jet Pump suction housings. Factory suction housings work just fine for most jet boaters and are plenty strong in most applications. Note, real early castings may not be as strong for the power some folks are making today. (Vintage 1970's)
If you are building big power and want a stronger housing to take the load Jim recommends the DOMINATOR HOUSING. These housings are the newest generation, made to fit both 10 ¼ and 10 ½ inch bolt circle bowls and are a much heavier castings.
A/T has also developed a super strong DRAG RACE suction housing that is very close to the strength of a forging (within 3%).
The strength of these units are achieved by a process called Hot Isostatic Pressing, or H.I.P. In this process the miniature casting bubbles are forced out of the casting at high temperature and high pressure with an inert gas. These housings also come double drilled.
Dominator HD Suction Housing $1049
Dominator HD Drag Race Suction Housing,
10.5 inch BC, H.I.P. Treated, Double Drilled $1949
A/T-309 Suction Housing $1049
Hand Hole Cover for Dominator HD $150
Hand Hold Cover for A/T-309 $80
Dominator Drag Race Bowl, H.I.P. Treated, Double Drilled 10.5 inch BC, Extrud-a-Honed $1549
Shown below is a Dominator suction housing with a Jetaway attached.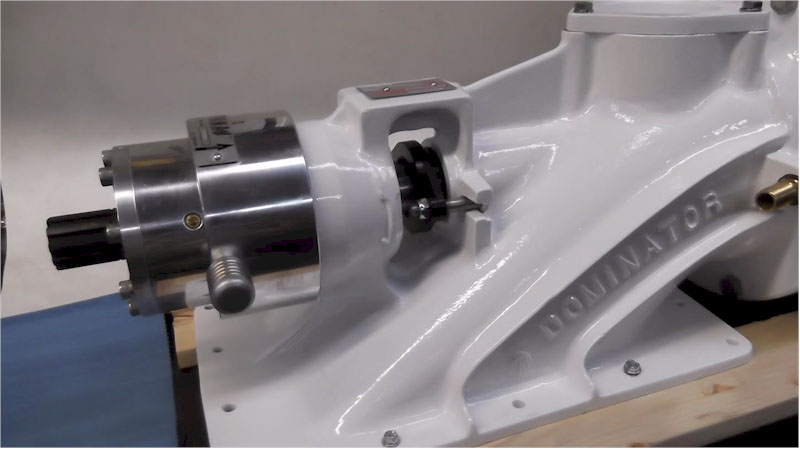 Berkeley E and F model "Add a Shoe" Kit $269
The add a shoe and ride plate kit works very well with the Berkeley E and F model jet drives. This drive has a shorter intake opening as well as a steeper ramp angle to the eye of the impeller when compared to the 12JC and 12JG Berkeley jets. Because of this design difference in the suction housing the E and F jet has a harder time staying "loaded" in High performance applications. This kit is installed in place and is a relatively easy task for the do it yourselfer.
The shoe helps keep the suction loaded at higher speeds and the larger ride plate (larger than the stock piece) provides a better stance at higher speeds.
The kit below is shown with a one piece C type bowl cradle (or sometimes called a yoke) Yokes are available for G bowls, both tall and short as well as yokes for the A/T HP bowls.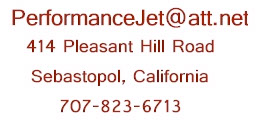 ©2003-2017 Performance Jet. All Rights Reserved.