JET IMPELLER SUPER SALE
Generally, cast aluminum impellers are able to withstand up to 500HP and 5500 rpm as long as the jet boater keeps the jet drive loaded properly and does not over rev the drive. Unlike the cast aluminum, Mag/bronze and stainless steel impellers are able to handle greater horse power loads and high speed unloading conditions. But, just a word to the wise, loading, unloading and then reloading your Jet Drive on a high horse power blast run will create tremendous pressures inside your drive unit. You will eventually experience catastrophic jet drive failure if you don't correct the problem. No matter how good the parts are in your Jet drive, you will tear them up.
Now, I know that a bunch of jet boaters out there run cast aluminum impellers at much higher HP loads and get away without troubles. If you want to stretch the limits of cast impellers, that is up to you. It depends a lot on what kind of a jet boater you are, as to how much you can over power cast aluminum impellers and get away with it. As a builder, I have to be conservative and put my emphasis on durability. I use 500 HP and 5500 RPM as my cut off point.
For you folks running with a lot of horse power, the proper impeller cut and proper intake hardware for your application is a must. Keeping an eye on your suction housing pressure is not a bad idea either. If you are racing in a shallow, rocky environment and gulping a lot of air, the stainless steel or 1018 billet steel impeller will take the biggest beating.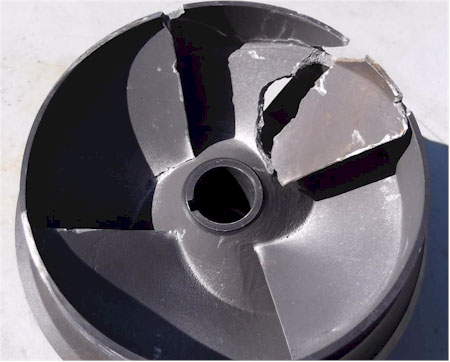 Here is a picture of an Aluminum Impeller that a customer tried to keep alive behind 636 horse power at 5800 RPM. Needless to say, it did not work. This locked up the pump once the engine shut down. I replaced it with a stainless piece.

IMPELLERS BY AMERICAN TURBINE/DOMINATOR
These impellers are nicely cast at A/T's own foundry. They are nicely finished and heat treated. I am comfortable using the cast aluminum impellers up to 500HP. A/T impellers for the A/T jet have a wear ring skirt on the back side of the impeller that fits into a machined surface in their bowl. I call this a stuffer skirt. This is a nice design and for this reason I recommend using only A/T impellers in A/T jets. I have seen builders use other impellers on A/T jets but to me, this makes no sense, as you give up the anti turbulence design of the stuffer. A/T impellers run a real good profile anyway, so why not use them in your A/T jet. If you have a preference for an impeller by another manufacturer, they will fit the A/T but you will give up the stuffer skirt design. If you do use another manufacturers impeller and wish to have a stuffer, you will have to fit a stuffer plate into the A/T bowl. The newer Dominator uses the A/T impeller also. Ron Gordon owned Dominator before he designed the A/T jet drive. A/T jet drives have reached speeds of 163 MPH and have run 126MPH on the white water racing circuits. A/T also makes impellers for Berkeley, Aggressor and Legend style jets. It is the same A/T was the first company to offer the 9.250 and 9.500 impellers.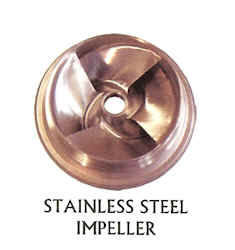 A/T Aluminum Impellers, Investment Cast/CNC for A/T jets    $495 any cut
A/T Stainless 17-4 PH Investment Cast/CNC      $1395 any cut
A/T Impellers Berkeley Style Aluminum     $455 any cut
9.250 and 9.500 Impellers are the same price
Hi Helix S/S Impeller $1649 any cut
In 2007 A/T came out with a new impeller that they call the HI HELIX impeller. This impeller is a very hard loading stainless steel impeller made of 17-4 PH S/S. This impeller is meant for high HP and supercharger applications and loads harder than a standard A3 impeller. Call Jim for application and sizing needs.
Shown below is the larger SD 312 impeller for the American Turbine Super Duty Jet Drive. These impellers are only offered in 17-4 PH stainless. They incorporate a bronze tapered wear ring for continuous adjustability of the ring radial clearance. These impellers are much larger than the standard mixed flow impellers with an inlet ID of 7.625 inches and an overall OD of 9.750 inches. These impellers and rings will fit the SD 312 only.
Sale Price $1572
Bronze Ring $425
Longer Insulator $12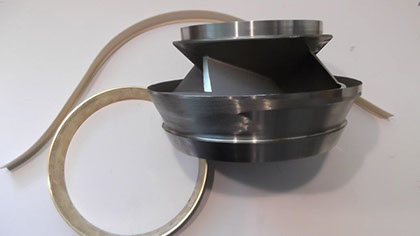 IMPELLERS BY AGGRESSOR/JBP
The previous line of Aggressor impellers are no longer being produced. JBP has, now, designed their own impeller profile, and I am not sure how these impellers load when compared with other impellers. Tom can fill you in on these details.
From what I understand, the aluminum is good to 475 HP. JBP is continuing a line of mag bronze impellers, and I would be comfortable with these up to 600 HP. Beyond that, stainless steel is the only way to go, in my opinion.
Aggressor Cast Aluminum     $399 any cut
Aggressor Mag/Bronze     $850 when available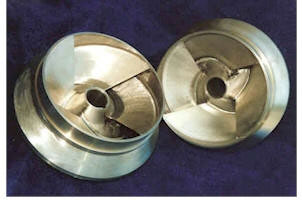 Note:  Some years ago now, Dave Jones semiretired to take some time with his family.  Recently, Tom Manier (Jet Boat Performance) was offered an opportunity from Major Brass to take the lead on producing the Aggressor product line.  Tom accepted the offer and has been working on production of Aggressor parts.  Tom calls his aluminum impellers his "signature" series.  Most parts and kits are now available.  Bowls and Bronze impellers are on the way. Tom at JBP no longer produces the Aggressor profile impeller. He has designed his own JBP profile in both aluminum and mag/bronze.

IMPELLERS BY BERKELEY JET DRIVE
These impellers are cast at Berkeley's foundry connection.  These impellers are nicely cast, CNC machined and hardened.  The finish is good, and I am comfortable with the aluminum casting to 500HP.  Any more HP and I would suggest a stronger impeller.  Berkeley has their own stainless impeller profile.  Impellers from other manufacturers will fit as well.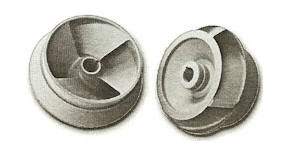 Berkeley Cast Aluminum     $499 a cut
The new Berkeley 17-4 PH XB Investment Cast
Stainless Impeller A/A2 Cut $1299
(Call on other cuts.)
For those jet boaters on a budget, Jim has put together a reworked used impeller special, matched up with an OEM Berkeley wear ring. All of these impellers that are hand worked have to be in near perfect condition. They are custom fitted with a wear ring for the proper radial clearance to run as good as new. Most impeller cuts are available while the supply lasts. Reworked impellers from other manufacturers are available as well. Call Jim for options and pricing.
Berkeley style reworked impellers w/
standard wear ring and insulator
$275 - $375, depending on the wear ring used.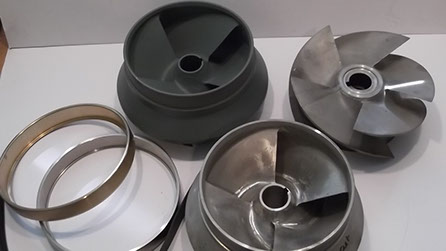 IMPELLERS BY PRECISION JET DRIVE
Precision Jet Drive aluminum impellers are the only impellers on the market that are CNC machined from a solid bar of forged aircraft quality aluminum.  These impellers are heat treat hardened and balanced.  They come perfectly smooth and finished right out of the box.  These impellers are CNC machined in two pieces, the hub and the shroud. These two pieces are then furnace welded together and then tig welded.  The vanes are set up on a more aggressive pitch angle and will load your pump harder.  The power curve is similar to the Legend curve.
Don't let the weld lines fool you.  This impeller works just fine.  I am comfortable using this impeller to 650 HP and have done so very successfully with no problems so far.  PJD also offers a CNC machined axial flow inducer impeller.
PJD Billet Aluminum Impeller      $535
PJD 1018 Steel Billet Impeller     $1675
PJD Stainless Steel Axial Flow Inducer, CNC     $425
PJD Billet Aluminum Five Vane Impeller     $535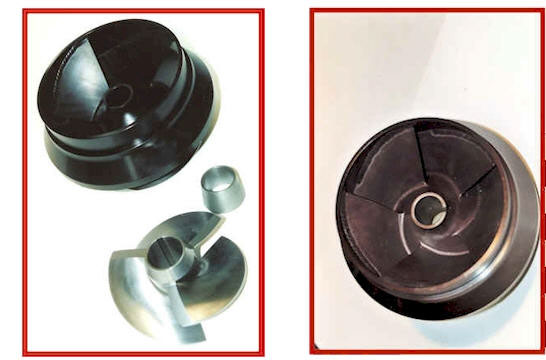 2022 INDUCER IMPELLER SUPER SALE $330
The Inducer pre-loader Impellers work well in most all applications. These impellers will reduce cavitation and improve performance with your boats "hole shot" as well as enhancing "mid range" pull on most power combinations. They work especially well when used with impellers that are cut down to match specific cam profile and RPM requirements. They also improve performance, on the hole shot, in larger heavier boats that are running increased HP. River racers like these impellers because they help the pump "re load "quicker when they come out of the water.
This Impeller is made from 15-5 PH stainless steel with a reduced hub size and thinner blades. These are the inducers preferred by most racers.
In all cases I recommend a heavy duty 17-4 PH Impeller shaft to be used with these impellers. Shafts must be cut to accept an Inducer and slotted for a key way.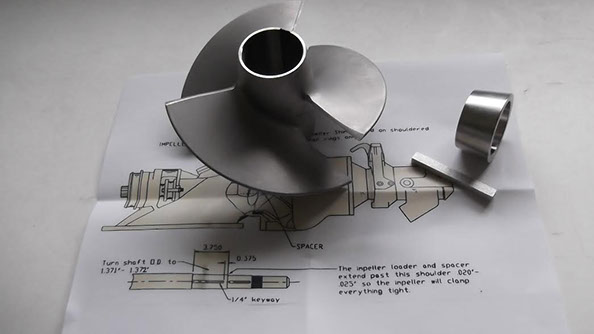 IMPELLERS BY PLACE DIVERTER
Heritage was founded shortly after Berkeley Jet Drive sold its company in 1996.  The head of jet drive sales got together with one of his close friends and put together the business in Sacramento, California with the goal of providing quality parts for the jet drive market.  In doing so, Robert and Jack decided to use the slightly more aggressive Legend profile for their impeller line.  These are cast in the Buddy Bar Foundry in South Gate, California. With these impellers, you will find that they load approximately 100 RPM harder than standard impellers. Or, to put it another way, a half-size larger in cut.  An A-cut is equal to an A+ on a standard impeller.  I have had no trouble using these impellers up to 500 HP.  Heritage also offers a stronger Bronze casting that works great for higher HP applications.
Note: As of March of 2014 Jack Keaton retired from business and sold his company, Heritage MFG., to Tim Place of Place Diverter and Control. Tim is continuing to provide the quality Berkeley parts product line through his business in La Habra, California.
Place Cast Aluminum Impeller     $495
Place Cast Bronze Impeller     NA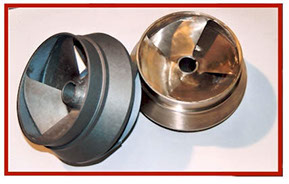 KODIAK/HAMILTON JET DRIVE IMPELLERS
Kodiak and Hamilton jets come in a variety of models.  Listed here are the models generally used in the recreational market.  Larger drive units are available from Performance Jet for the commercial market.  Prices for these units and their parts are provided on request.
The standard Kodiak Jet is available in three models:
The 110: one 7.5" impeller
The 120: two 7.5" impellers
The 130: three 7.5" impellers
In the year 2002, Kodiak modified their model numbers to:
The 211: one 7.5" impeller
The 221: two 7.5" impellers
The 231: three 7.5" impellers
Model number example:  231554-92 = model 231 (three stage), the first two
stages using a #5 pitch impeller, and the last stage using a #4 impeller with a 92mm Pozzi nozzle.
The Standard Hamilton Jet is available in three models:
The 771: one 7.5" impeller
The 772: two 7.5" impellers
The 773: three 7.5" impellers
If you are unsure of the type of jet drive you have, you need to find the model and serial number tag to verify exactly what it is.
These impellers are open face, stainless steel axial flow impellers that are nicely made and very rugged.  These impellers come in various pitches and styles.  There are three different "overlap" impellers that are used on the first stage of multi-stage jets.  These impellers are designated #1 on multi-stage jets.
The remaining four impellers come in four different pitch sizes: #2 is a 22-degree pitch, #3 is a 23-degree pitch, #4 is a 24-degree pitch, and #5 is a 19-degree pitch impeller.
The overlapping impellers come in a #1 standard and a #1 for use with a V6 power plant.  The big block power plants (8.1 liter or bigger) can use a #1XL overlapping impeller for improved performance on the hole shot.
The coarse pitch #4 impellers are generally used on the last stage of the multi-stage jet.
For the best performance upgrade to an older three stage jet, change the third impeller (back impeller) to a #4, and replace the nozzle with a 92 mm Pozzi nozzle.  This will drop RPM and increase performance.
RECOMMENDED COMBINATIONS
SPECIFIC ENGINES
Engine 305 w/ two stage jet: 1/5 impellers  92 mm nozzle
350 w/ two stage jet: 1/4 impellers  92 mm nozzle
350 w/ three stage jet:  5/5/4 impellers  92 mm nozzle
364 w/ three stage jet:  1/3/4 impellers  92 mm nozzle
383 w/ three stage jet:  5/5/4 impellers  92 mm nozzle
454 and 502 w/ three stage jet:  1/2/4 impellers  92 mm nozzle
496 w/ three stage jet:  1/3/4 impellers  92 mm nozzle
OVERLAP IMPELLER PRICES:
#1XL  Overlap (More Aggressive)  $2195
#1 Overlap    $2195
#1 V6 Overlap   $2195
STANDARD IMPELLER PRICES:
#2, #3, #4, #5     $1770
92 mm Pozzi nozzle     $465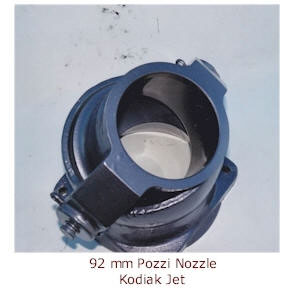 IMPELLERS BY LEGEND JET DRIVE
These impellers are cast at American Turbine's own factory connection in Washington State.  These impellers are nicely cast with the Investment casting process.  These impellers are heat treated 356-T6 aluminum and are sharpened, balanced, and usually ready to go right out of the box.  These impellers also have a coarser front side vane angle and will load 100-200 RPM harder than the Berkeley.  I am comfortable using this impeller up to 500 HP.  I have used this impeller with great success.
NOTICE TO ALL JET BOATERS:  As of March 2007, Legend Jet Drive is no longer in business.  Legend Jet Drive has been bought by American Turbine.  I talked to Ron at A/T and asked if he was going to keep the Legend impeller profile, and he informed me that he was going to run some tests before he makes his decision.  In the meantime, these impellers will be available until the stock runs out.  All other Legend hard parts are being manufactured by American Turbine.
Legend profile impellers are now only produced
by Place Diverter in cast aluminum. $499